Dhow Chasing in Zanzibar Waters
Five Year Memoir of Slave Suppression
by British Royal Navy Captain George Lydiard Sullivan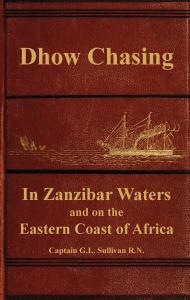 After spending five years working to suppress the slave trade off the east coast of Africa, British Royal Navy Captain George Lydiard Sullivan wrote the memoir
Dhow Chasing in Zanzibar Waters
which was published in 1873.
The book brings together his time on the H.M.S. Castor, Pantaloon, and Daphne, and provides a detailed look into the difficulties of chasing down locally-built boats crewed by sailors who knew every bay and inlet.
This reprint of
Dhow Chasing in Zanzibar Waters
is a great resource for anyone researching mid-19th Century seafaring in the western Pacific and Indian Oceans, or the history of the East African slave trade.
To read more about this book, see the
Dhow Chasing in Zanzibar Waters page
at
TheModelShipwright.com